Industry Brief
How Technology is Driving Change in CRE
Caroline Stoll, General Manager, Data & Analytics, LightBox
Every segment of the commercial real estate industry has been challenged by an intense market pressure for speed and efficiency coupled with the need for accuracy. This has been exacerbated by needing to manage and utilize an exponentially growing amount of property data.
The LightBox Mid-Year Sentiment Report found CRE professionals are increasingly reliant on technology to improve efficiency and streamline their workflow. But the most important technological advance? Structured data.
Although the volume of data in CRE is expanding rapidly, much of it is not standardized or structured in a way that allows for easy access and analysis. According to survey respondents, structured and normalized data was the most desired technological improvement, capturing nearly 40% of the respondents' first choices, followed by automation (24%), and centralized management of functions (19%).
It's no surprise structured data was so important because highly fragmented data simply isn't actionable. To help address this challenge as the CRE industry continues its digital transformation, LightBox has connected our core data offerings (parcels, building footprints, structures, and addresses) to offer full context about a property on a national scale. As technology allows disparate data sets to be connected, CRE professionals will have the ability to access, understand, and leverage property data to make faster, smarter decisions.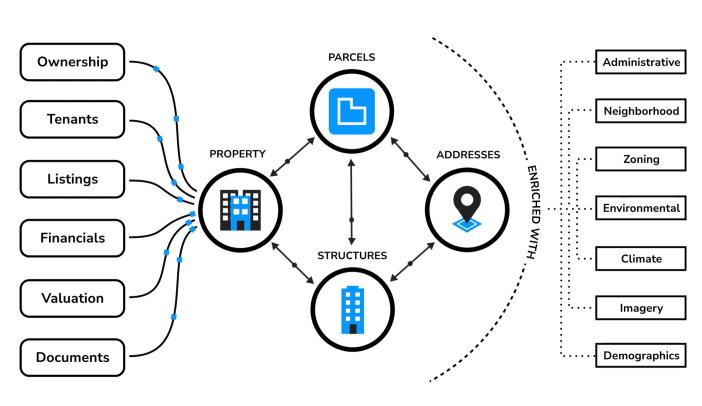 Another technological advance worth noting is Artificial Intelligence (AI). CRE professionals across the entire ecosystem could someday leverage AI's capabilities to automate the most labor-intensive aspects of their operations. According to the report, respondents believe AI is the most intriguing technology today, but there is also confusion about its applicability as well as concerns about its potential for unintended consequences. 
Three areas where AI has the potential to revolutionize traditional CRE processes include:
Property search and selection: AI-powered platforms can provide more efficient, personalized, and sophisticated property search experiences. They can analyze vast amounts of data to predict which properties are most likely to meet a client's specific needs, considering factors like price, location, and amenities.

Valuation and investment analysis: Machine learning algorithms can analyze large datasets and predict property values, considering factors such as property condition, neighborhood characteristics, economic trends, and comparable sales data to produce accurate estimates, helping investors make informed decisions about buying, selling, and investing in commercial properties.

Data extraction from unstructured sources: The CRE industry has long relied on unstructured data trapped in documents. Logic-learning machines equipped with natural language processing capabilities can analyze text-based data such as online reports, news articles, public records, environmental reports, appraisals, loan documents, and more, and extract valuable insights.
As the digital transformation continues, exciting new ways to think about AI's impact on your business could emerge.
For instance, what if you were able to link every aspect of examining a particular commercial property address with one unique ID? Or streamline previously time-consuming data collection and analysis functions? Or take a holistic look at your firm's overall portfolio risk? 
Reducing redundancy and inefficiencies to enable the smartest possible decision-making is the LightBox vision for the future of CRE.